Take This Plane to Cuba, or I'll Floss Your Teeth!
This past month Bill has made a six-city tour throughout the DR Congo, visiting extension training centers in six different provinces. The tour included three back-to-back trips with less than twenty-four hours of turnaround before heading out the door to the next city.
One early Kinshasa morning, Bill found himself-a bit bleary-eyed, wandering through a new airport-standing in front of a wooden door that said in French, "Knock before Entering." This door was somewhat new and curious. After finishing all the travel formalities of checking bags and passing through internal national security, he did the African thing and tried to open the door without knocking. It was locked, so he knocked. The lock clicked, the door opened from the other side, and the opening led to the waiting room. How quaint! After all, this was not an international airport, just a local one that handled orange Czech-built puddle jumpers like the one he was taking to Nioki. So casual. But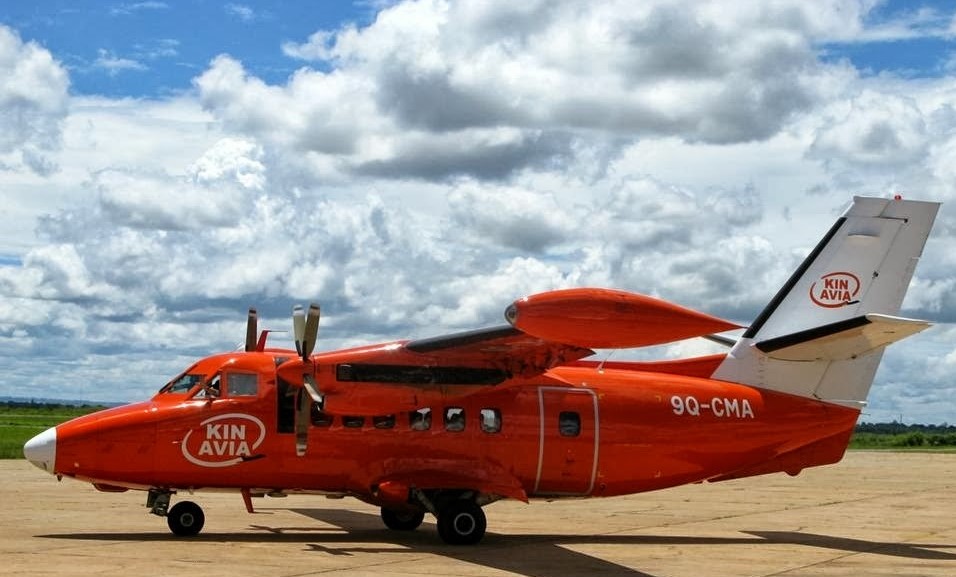 hey, rules are rules and there before him stood a blue-uniformed government official in charge of the TSA-esque final security inspection of all carry-ons. Rummaging through Bill's backpack the security agent exclaimed, "What's this?" with that well-trained air of intimidation inducing a panicky one-way ticket to an unsubstantiated guilt trip. "It's sharply pointed!" The agent held in his hand what he considered THE weapon of choice for all potential puddle jumper hijackers-the handle of Bill's electric toothbrush. The brush head had come off in his shaving kit and protruding, ever so menacingly, was the drive shaft, truly pointu, as they say in French. After Bill reinserted the brush head on the shaft the agent understood Bill had no intention of diverting the plane to, say, MBandaka instead of Nioki where he was headed, with his toothbrush. He tucked the terrorist tool into the backpack and said "Have a nice flight, sir."
This One Needs An Injection........
On another early morning flight, Bill arrived so early he beat the government officials to the airport in Goma. Looming behind the airport was Mount Nyiragongo, an active volcano twelve miles north of the city, spewing a constant plume of smoke. Being only the second passenger to check in that day he breezed through the usual formalities, with only the local health inspector remaining to glance at his international yellow health card and maybe take his temperature to ascertain that he was not a vector for the Ebola virus. This had never been a problem thus far, but this time a young lady the age of one of his daughters, wearing her white Ministry of Health smock sternly said, "There is an irregularity with your health card. Come with me!" So Bill dutifully followed Ms. Ministry of Health into her office. Behind closed doors, with the sum total of all the officialdom she possessed, she informed him there was no entry for a polio vaccination in his card. It was early in the morning, and his mental acuity was at best low level, so Bill was not sure what to say. ("Polio? Isn't that a childhood vaccination?" he pondered. "Where is Sonia when you need her?") Trying to bluff his way out of her office he announced with all the authority he could bluster, "That is not required." "Yes, it is!" she retorted. "No, it's not!" he shot back, and this game of "My bluff is bigger than your bluff" was only stopped when she warned Bill that next time he had better have his polio vaccine in his international yellow card or else….to which Bill replied that he would look into it as soon as he got back to Lubumbashi. Face saved, freedom granted, and a good time was enjoyed by all.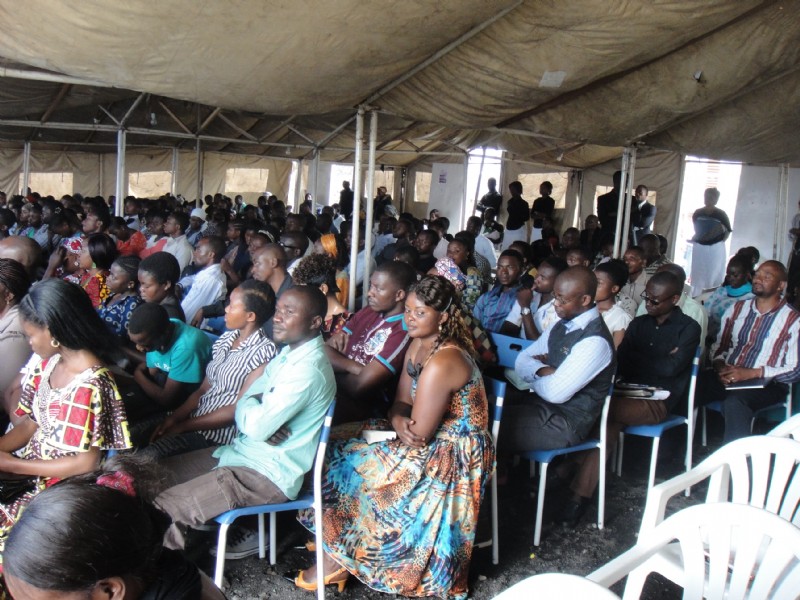 Note: At this extension city Bill visited a church planted by a recent graduate of the school. This young pastor surrendered his own personal building lot so they could build a church on it. His congregation exceeds 300 in attendance only two years after its planting.
A Hero's Welcome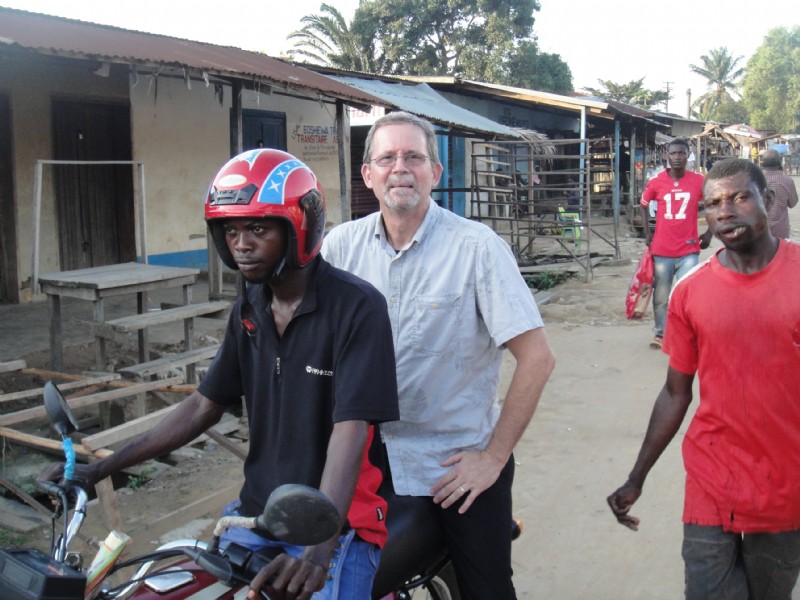 At another extension site visits by foreigners were so rare in the city that Bill's arrival at the airport included a photographer, a choir of thirty mamas from the local church, and a long line of pastors waiting to greet him. Leaving the airstrip in the vanguard of a motorcade of Indian- and Chinese-made motorcycles-a procession of church officials and the prized Mundele, ("white man" in Lingala)-Bill was paraded twice through the highways and byways of the city as part of this motorcycle convoy, the little beep-beep horns blaring to announce: "We have a visitor. What have you got?" Fortunately there was no grassy knoll in this city hiding would-be accomplices to assassinate visiting VIPs. This particular extension needs a 25HP outboard motor to drive their locally-made wooden bananière ("banana boat" in French) to expand its training centers to the outlying areas of this province covered by the Congo Basin rainforest. One of the professors in this school walked for four days to reach the school so he could teach. Now THAT is a commute!
Meanwhile in the Capital...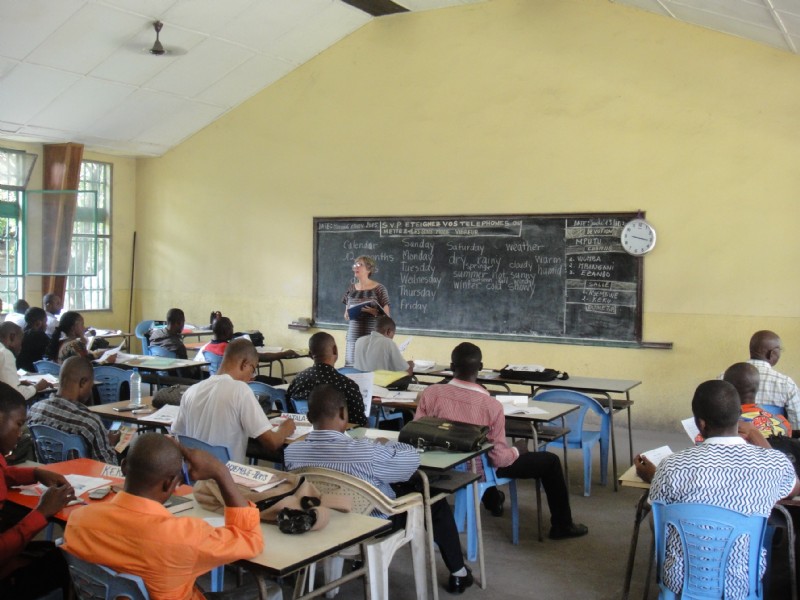 Sonia taught a three-week English language course at the Bible institute in Kinshasa while Bill flew around the western DR Congo. She teaches English in this French-speaking country to help students have access to the abundant library sources that are available in English-many more existing volumes than in French-investing in the next generation of Congolese pastors. Her course was extended by a few days due to the unexpected deaths and funerals of a student and another professor of the Bible institute. Life here, with its many tropical illnesses and less-than-optimal healthcare, can be extremely fragile.
My Fridge Runneth Over.....
Bill returned to Kinshasa from his trips with memories of over fifty bedbug welts on his back and legs, and of being well-warmed and filled with fish and fufu (as well as with a much better grasp of the needs and aspirations of the 600 or so students enrolled in pastoral training in the DR Congo). He and Sonia flew home to Lubumbashi, our home sweet home, after over a month on the road. Only it was not so sweet! As they stepped through the kitchen door they realized something was rotten in the state of Denmark. Apparently during one of the daily power outages the main circuit breaker for the entire house had tripped, so both the fridge and the chest freezer were off for several weeks. Imagine the smell of meat, fish, chicken, and chopped mango growing old together without the benefit of refrigeration. Bleach and baking soda are gradually dissipating the odors, but it may take a while for the stench to completely disappear. TIA- This is Africa!
Why All This Travel? Past No Make Future…..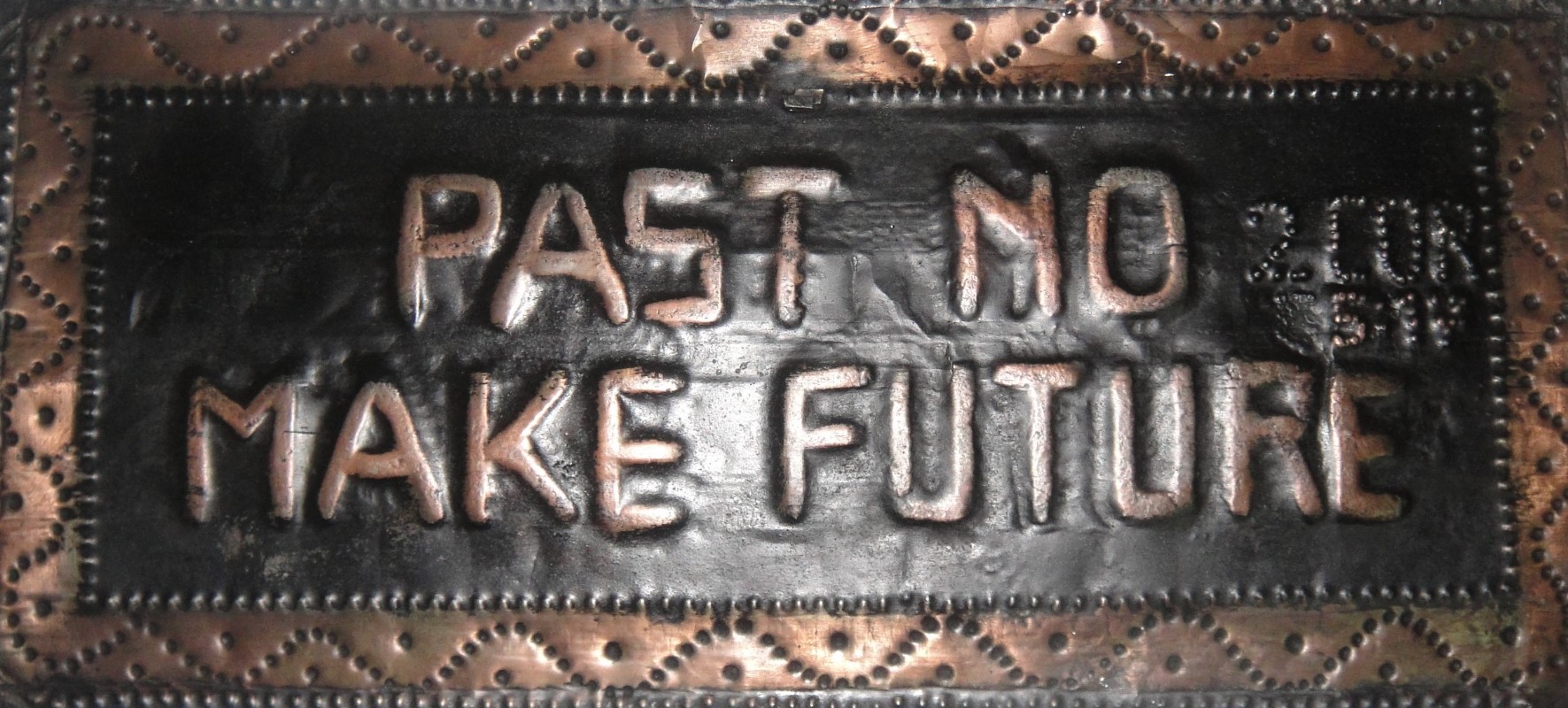 It is simple-investing in the next generation. Our goal is to awaken a sleeping giant. In all of our thirty-one years on this continent we have never seen an African nation with as much potential as the DR Congo. The abundance of natural and human resources is unmatched anywhere we have worked before. In spite of its difficult history of political corruption and general chaos, our goal is to develop a new generation of leaders in the DR Congo, leaders who can work at a higher level of cooperation and become a viable missionary-sending church. The unreached of this world cannot wait for the West to send personnel. The key to missionary ministry is multiplication of effort that leads to a multiplication of results. We are in conversation with church leadership on this issue, planting seeds and encouraging new thinking. "Past No Make Future" is what one would call Gold Coast English- spoken during Ghana's colonial period.
[Note: I can have a custom-made plaque like the one here made to your order. Send me your adage, proverb, or saying (less than thirty letters and spaces, the briefer the better) and we can have a local artisan fabricate the plaque. The only challenge is that you have to wait until we can send it back to the US with the rare visitor we have here to receive it! Email me by clicking here to get the ball rolling.
Engaged to Three Ladies...
In January Bill and Sonia will welcome three university-age ladies to live life together with them in Lubumbashi. They are the next group of EngageCONGO students who want to test their calling to Africa. These three want to experience what cross-cultural living is all about while they continue their studies online. Having raised two daughters in Africa it will be like déjà vu all over again. Once more, investing in the next generation. Please pray for Amanda, Lauren, and Breanna as they step out in faith and make the jump to African living.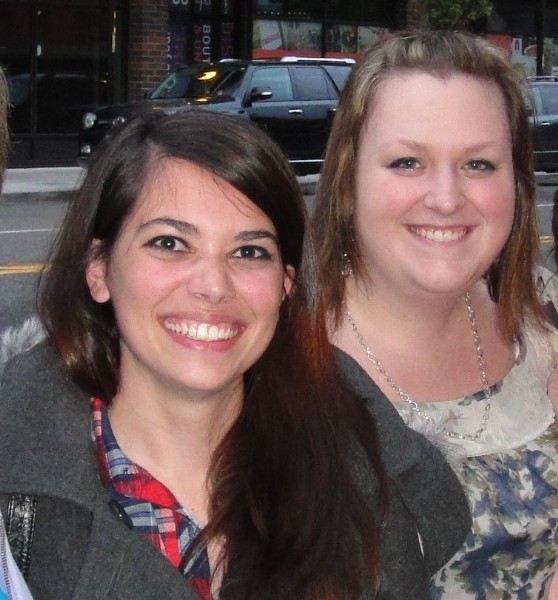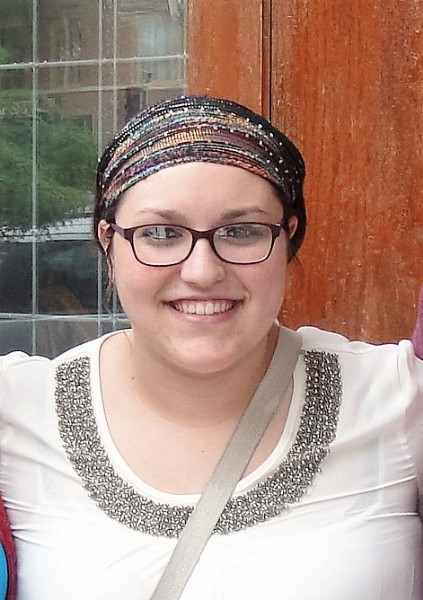 Bottom of Page Twelve...
It was November, 1914. Rumors of the conflict that eventually became World War I were beginning to surface in America. A group of pastors met for a national conference, the second that year, at Stone Church in the city of Chicago. They called their gathering the General Council of the Assemblies of God. In the minutes, at the bottom of page 12, was recorded a resolution which set in motion a movement that has expanded to plant almost 400,000 churches in 190 countries worldwide, with a collective membership of 67 million people, 95% of whom live outside the USA. They calculate that every fifty minutes a new church is planted under the umbrella of the Assemblies of God somewhere in the world. This endeavor of which we are a part has a rich heritage. Thank you for joining with us in this great endeavor.
May the Lord bless you this Christmas season and throughout the coming year.