How does 1 x 1 x 1 not equal 1?
First of all, we want to express our apologies in not keeping you better informed of the ongoing work in the DR Congo. This past year has seen several good advances, and we want to detail them in this current newletter. Good things are happening!
So, what about that simple multiplication problem? In reflecting over our 38 years of active ministry (32 of those for Africa), we see the true power of ministry is not in what you do by yourself, but how you multiply yourself through the lives and ministries of others. A veteran gave this advice to a young missionary getting started in Africa: "My friend, your job here is to find an ember and blow it to flame!" It is not our personal triumphs that make a difference, nor the giants we slay that really matter. It is in how many Davids follow us after our shadow is no longer cast across African soil. Then the ledger is opened and we can say we have run the good race. Here is the mystery of the Kingdom: we never know how much influence we had until we peek into the other side of eternity.
Multiplication is why we invest in training church leaders, such as the ones celebrating their graduation in this video above.
This graduation occured in July, 2016, in the capital city of Kinshasa at our main Bible institute campus. In addition to this main campus we have 16 extensions scattered throughout the country where over 500 men and women are preparing to make their contribution to church planting and growth. Our task is to develop these existing training platforms, as well as to create a sustainable system that expands this training opportunity to every corner of the DR Congo. No small task! But definately MULTIPLICATION!
That is not all. Our goal is to use this training to create a missionary-sending partner with Congolese missionaries adding their creativity, commitment, and personal resources to the task of reaching the unreached around the world. Preliminary discussions were launched with key church leaders and a seedbed is being cultivated. Your support in prayer and finances will help us flesh out this initiative, so please contiune to partner with us. GLOBAL MULTIPLICATION!
A week-long conference was organized with all our extension school leaders in September, 2016. We mapped out a strategy to move all the extensions in the same direction. This is the first time the extension administrators were brought together since the beginning of this project nearly ten years ago. Lively discussions peppered the week as we wrestled with our current realities to find answers to the many logistical challenges our extensions face.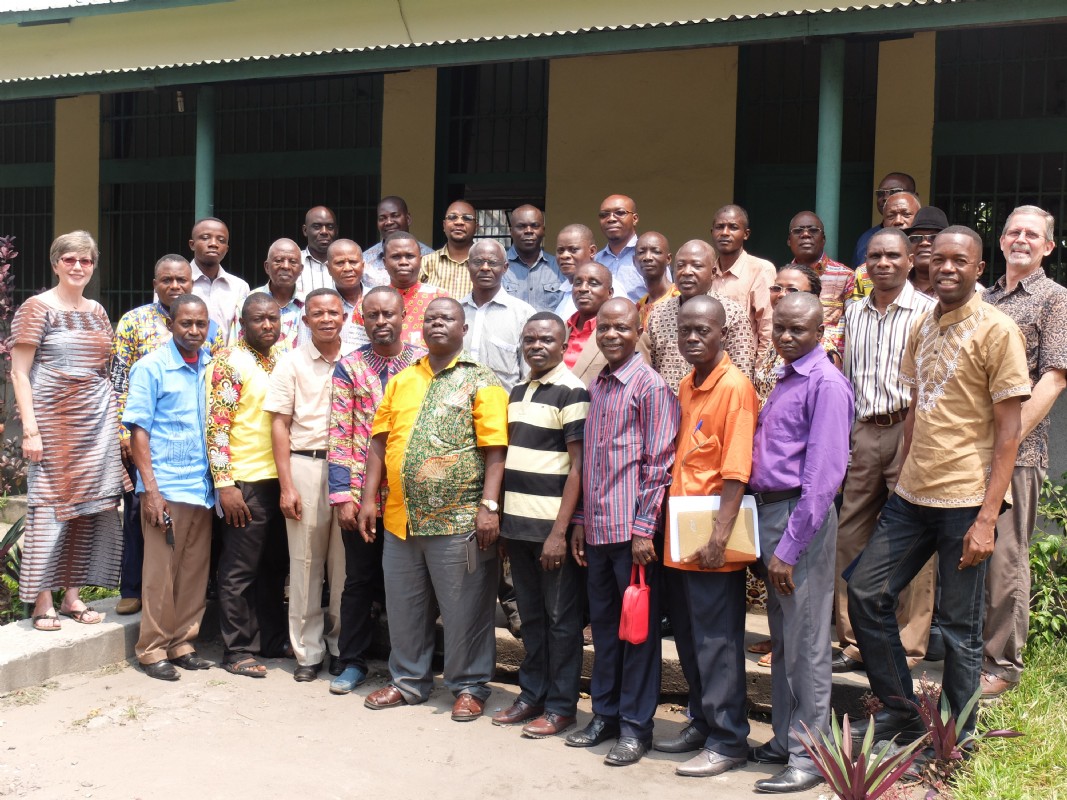 Decisions were made to revise the majority of the courses taught, standardize the program across all the extensions, and invest in our existing professors with education at the B.A. level, so they can be more effective in the classroom. MULTIPLICATION
Eight of our extension professors were admitted to our B.A. level program in January, 2017. Sonia and I want to thank those of you who have contributed to the scholarship fund to help these first eight prepare for a more effective teaching ministry. At the right you see a group photo of our extension leaders and the professors teaching on the main campus.
A special note of appreciation to Pastor Allan Fox of the Coulee City Assembly of God. Several years ago a young lady in his church sacrificially gave to the scholarship fund. It took far longer than we anticipated to start the program, but her investment was not forgotten. Thank you, Pastor, and please let her know her sacrifice was not in vain. You can also contribute to this scholarship fund by clicking HERE.
Speaking of MULTIPLICATION, one of our first Engage college interns is graduating from one of our Assemblies of God universities in the this May. After graduation this intrepid young man will be on a two-year assignment in a creative-access country in East Africa working among an unreached people group.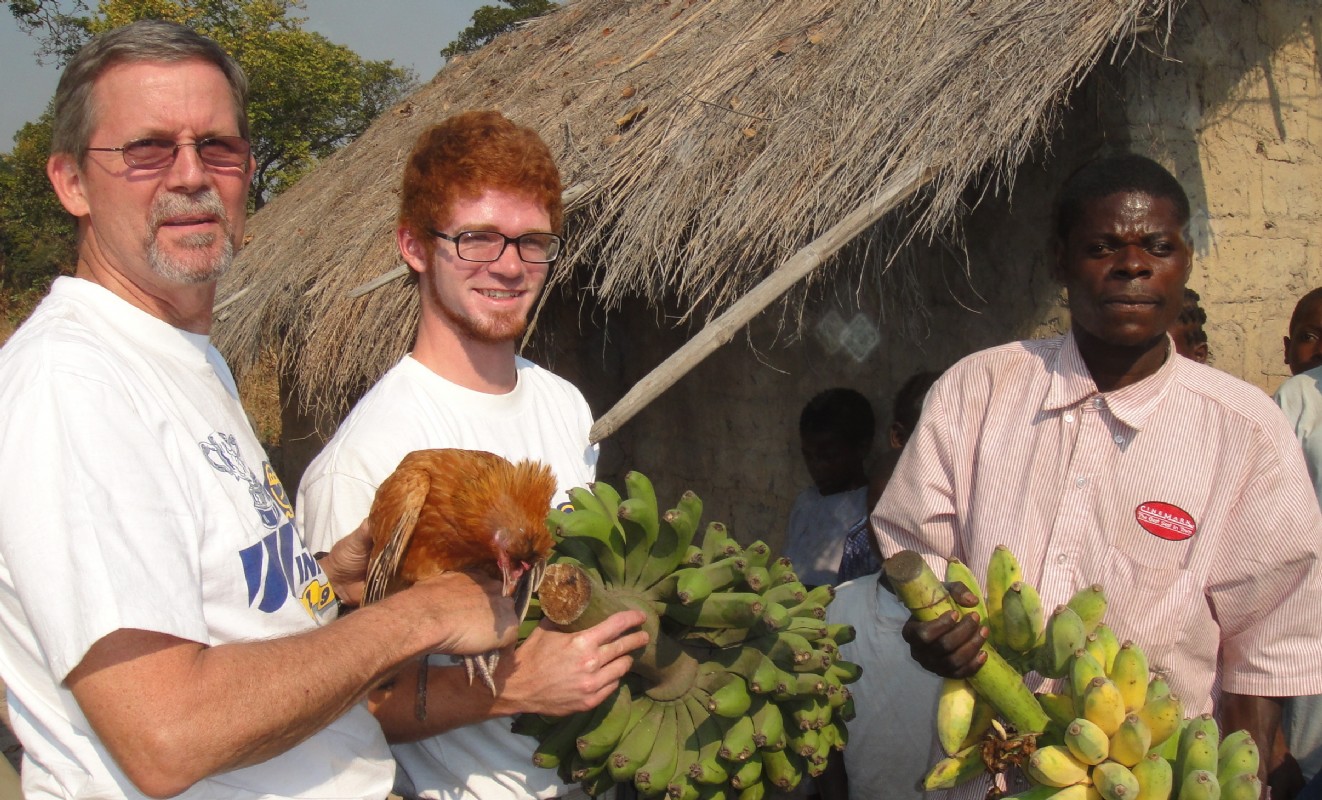 He will certainly draw on the training he received during the eleven months he was with us in the Congo. In his own words, "The experience I gained in Congo immensely contributed to my ability to minister in other cross-cultural situations." He senses a call to be a career missionary. We are honored to have been a part of his life. If you would like, you can partner with him financially, either with a one-time donation or on a monthly basis. Click HERE to go to his online contribution page.
We have another seven former Engage students who are at various stages of their education. Click here to go to our Engage webpage to read their stories. You can pray for them as they carve out their own niche in the Kingdom. We will let you know more as these next-generation missionaries expand their influence across the world. Once again, MULTIPLICATION!
A project we presented during our previous travel in the USA was the distribution of study Bbles to pastors in the eastern regions of the DR Congo. In 2016 we received a 40' container filled with library books and furniture for the Bible institute extensions from our friends at Africa's Hope PLUS 1,800 Full Life Study Bibles. Passing a container through the Congolese system of customs was an interesting endeavor. Regardless of the fact we had a full exoneration from customs duties, on the day the container was unloaded on our Lubumbashi campus we had agents from EIGHT different government security departments there to "inspect" the contents of the container. Let's just say the first "distribution" of Bibles occurred that day.....
In December we made the first delivery of these study Bibles in the southern section of the Katanga province. Distributions took place in the cities of Lubumbashi, Likasi, Fungarume, Kolwezi, and Kasumbalesa. The distributions for the three eastern provinces of Maniema and the two Kivus will commence once we negotiate with the SNCC, the national railroad company, to ship these Bibles to Kindu, the capital of Maniema province. From there we will truck them during the dry season to Goma, the capital of the North Kivu province, for onward shipment by ferry on Lake Kivu to Bukavu in the South Kivu province. The final distribution point will be the city of Uvira on the border of Burundi.
The DR Congo is currently in the throes of political turmoil as they wrestle with a developing democracy. Presidential elections were due at the end of 2016 but not held. Opposition parties advocate for the respect of constitutional law and accuse the sitting president of complicity in the election delay. This political situation hangs over our work as a sword of Damocles. The needs we see have not changed. The insecurity only underlines the critical nature of what we are trying to do: train local pastors to be community leaders, finding local solutions to local problems. There are no easy answers, and we need wisdom of a divine nature to keep our focus where it needs to be. You can pray with us to that end.
a personal note, we are new initiates into the Royal and Exalted Clan of Grandparents. Zechariah Erdem Judd made his presence known in Ulaanbaatar, the capital of Mongolia on May 23rd, 2016. Our daughter Bethany and her husband Eric serve there as English teachers in a local high school. Our little tiger tail is certainly a joy for us, albeit from 19,353 km/12,098 miles away by road (if you take the Trans Sahara Highway, cross the Mediterranean Sea, and continue through Poland and Russia... or add another 1000km, head directly east from Algeria, and drive through Libya, Egypt, Jordan, Iraq, Iran, and all four of the Central Asian Republics. Just ask Google Maps!) Who ever gave our kids the idea they could live overseas? There ought to be a law...
Gwen, our firstborn, is a fourth grade teacher in Port Orchard, WA, and her husband Kenn is about to finish his AA degree from Olympic College. He will have his teaching credential in a few more years. In all we counted nine teachers in two generations of the Shaw family tree. You could say the thirteen years Archie Shaw spent as a board member of the La Habra City School District and Betty Shaw's work with public schools well into her late 70's had an impact on future generations. Hey, that's MULTIPLICATION!
You can always keep up on our activities in the DR Congo by following us on FaceBook. You can also help expand our "reach" by clicking here which sends you to our DR Congo FB page, then Sharing AND Liking our page. Thank you in advance!
We want to thank our friends and partners for your encouragement. Our days of wandering the globe are not over. Thankfully, keeping in contact with you is much easier than when we first started this adventure. In 1987 Ghana there were no cell phones, email, or internet. There was no "Insta" in any grams, no "Snap" in any chat, and the only Twitter came from actual birds. Fax machines became the rage in our first term there. How times have changed!