Bill and Sonia Shaw
Assemblies of God Missionaries to the people of Africa since 1985
Did you hear it? That groan- kind of like a Romans 8:22 King James version "the whole creation groaneth and travaileth in pain together" GROAN?
This groan emitted from my vocal cords- and ones that did not bind us together as they were indeed broken. (Anyone older than 45, now take the hand of the person next to you, sway back and forth Kumbayah style, and sing with me... oh yeah, and close your eyes.) Millennials feel free to roll your eyes and text somebody about how out of it these Boomers are!
Why the groan? After hitting "send" to shoot our newsletter out into cyberspace, and feeling oh so digitally-techno-savvy smug with the accomplishment, I found there were two errors- BIG ONES.
What do they call it in academia-speak- Errata? Corrigenda?
So, error #1- The link to our website I set up sent you to some crazy mainland Chinese cyber hacker's crib notes or something. As of this point in time over 200 of you have clicked that link to the Abyss. Il faut corriger l'erreur-
Click this link to go to our website: www.talkingdrumsafrica.org and see the marvels and wonders found there.
Error #2, and I have no idea what happened here- the picture of the Toyota extended cab pick-up was somehow left off the newsletter.
I also saw how, on opening the email, the pictures that broke to freedom from our server and landed in your inbox bloated up to gianormous size, ruining my cute and tasefully done layout. Hey, when you visit someone's house, you don't sprawl your carcass across their nice sofa like that! I beg your indulgence on my pictures' bad behavior. Like my mom said, they were not raised THAT way! (Or did she say that about me?)
Here is the picture of the Toyota pick-up: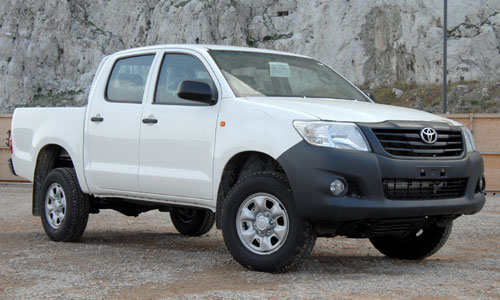 Lastly, Ernie Jones, who, if I am as old as dirt, is as old as dirt's uncle, informed me his email came without pictures. If that is the case with you, too, then send me a quick email to let me know. Click HERE to launch that email to me.
BTW, I can only wish I will be as spry, smart and generally Dudley be Studly as Ernie Jones is when I reach his crest of the "Hill." For a Texan, he doesn't do too poorly.
So, please accept my most humble pie eating apologies for this second invasion of your inbox in one day.
Bill
USA address: PO Box 1521 Port Orchard, WA 98366